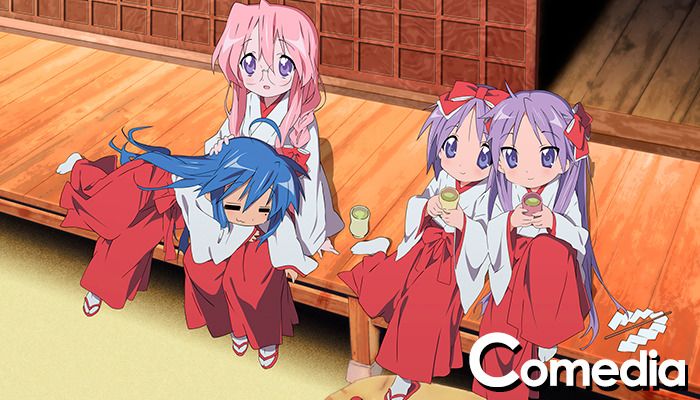 0
100% Pascal-sensei
A
Aho-Girl
Action Heroine Cheer Fruits
Active Raid: Kidou Kyoushuushitsu Dai-Hakkei
Active Raid: Kidou Kyoushuushitsu Dai-Hakkei 2nd
Akkun to Kanojo
Alice or Alice
Amaama to Inazuma
Amanchu!
Amanchu! Advance
Ameiro Cocoa
Ameiro Cocoa in Hawaii
Ameiro Cocoa Rainy color e Youkoso!
Ameiro Cocoa Series Ame-con!!
Anima Yell!
Anime de Wakaru Shinryounaika
Anime-Gataris
Ani Tore! EX
Anitore! XX
Ansatsu Kyoushitsu
Ansatsu Kyoushitsu Season 2nd
Aoharu x Kikanjuu
Ao no Kanata no Four Rhythm
Aquarion Logos
Asobi Asobase
B
Back Street Girls
Bakuon!!
Ballroom e Youkoso
Beelzebub-jou no Okinimesu Mama.
Bernard-jou Iwaku.
Big Order
Bikini Warriors
Binan Koukou Chikyuu Bouei Bu Love!
Binan Koukou Chikyuu Bouei-bu Love! Love!
Binan Koukou Chikyuu Bouei-bu Happy Kiss!
Bishoujo Yuugi Unit Crane Geeru Galaxy
Black Clover
Blend S
Boku no Hero Academia
Boku no Hero Academia 2nd
Boku no Hero Academia 3rd
Boku no Kanojo ga Majime Sugiru Shobitch na Ken
Boku-tachi wa Benkyou ga Dekinai
Bungou Stray Dogs
Bungou Stray Dogs 2nd
Bungo Stray Dogs: Dead Apple.
C
Cardcaptor Sakura: Clear Card
Centaur no Nayami
Charlotte
Chio-chan no Tsuugakuro
Chiruran Nibun no Ichi
Choukadou Girl 1/6
Chou Shounen Tantei-dan NEO
Chuukan Kanriroku Tonegawa
Cinderella Girls Gekijou
ClassicaLoid
ClassicaLoid 2nd
Classroom☆Crisis
D
Dagashi Kashi
Dagashi Kashi 2
Daiya no A Act II
Daiya no A Second Season
Danchigai
Danna ga Nani wo Itteiru ka Wakaranai Ken 2-sure-me
Demi-chan wa Kataritai
Denpa Kyoushi
Digimon Adventure tri. Bokura no Mirai
Digimon Universe: Appli Monsters
DIVE!!
Doamaiger D
Dog Days"
Dragon Ball Chou
Drifters
Duel Master Versus Revolution
Dungeon no Deai wo Motomeru no wa Machigatteiru no Darou ka?
E
Eiga Crayon Shin-chan Bakumori! Kung-Fu Boys ~Ramen Tairan~
Eromanga Sensei
Etotama
F
Fairy Tail (2018)
Fate/kaleid liner Prisma☆Illya 2wei Herz!
Fate/kaleid liner Prisma☆Illya 3rei!!
FLCL Alternative
FLCL Alternative Movie
FLCL Progressive
Flip Flappers
Flying Witch
Free! Dive to the Future
Fruits Basket (2019)
Fukigen na Mononokean
Fushigi na Somera-chan
G
Gabriel DropOut
Gaikotsu Shotenin Honda-san
Gakkou Gurashi!
Gakuen Babysitters
Gakuen Basara
Gakusen Toshi Asterisk
Gakusen Toshi Asterisk 2nd
Gamers!
gdgd men's party
Gekijouban Servamp: Alice in the Garden
Gintama° (2015)
Gintama. (2017)
Gintama (2018)
Gintama: Porori Arc
Gochuumon wa Usagi Desu ka?? 2nd
Go! Princess PreCure
Grand Blue
Gurazeni 2nd
Gyakuten Saiban
Gyakuten Saiban Sono Shinjitsu Igiari! 2nd
H
Hacka Doll the Animation
Haikara-san ga Touru Kouhen: Hana no Toukyou Dai Roman
Haikyu!! 2nd
Haikyu!! Karasuno Koukou VS Shiratorizawa Gakuen Koukou
Hajimete no Gal
Handa-kun
HaruChika: Haruta to Chika wa Seishun Suru
Hataraku Saibou
Hatsukoi Monster
Heavy Object
Hello! Kin-iro Mosaic
Hetalia: The World Twinkle
Heybot!
Hibike! Euphonium
Hibike! Euphonium 2nd
Hidan no Aria AA
High Shool DxD BorN
Himouto! Umaru-chan
Himouto! Umaru-chan R
Hinako Note
Hi Score Girl
Hitori Bocchi no Marumaru Seikatsu
Houzuki no Reitetsu 2nd
Hundred
I
Imouto Sae Ireba Ii.
Isekai Maou to Shoukan Shoujo no Dorei Majutsu
Isekai Quartet
Isekai Shokudou
Isekai wa Smartphone to Tomo ni.
Isuca
J
Jashin-chan Dropkick
Jingai-san no Yome
Jitsu wa Watashi wa
JK Meshi!
JoJo no Kimyou na Bouken: Diamond wa Kudakenai
JoJo no Kimyou na Bouken: Stardust Crusaders Egypt-hen
Joshi Kausei
Joukamachi no Dandelion
Junketsu no Maria
Juuou Mujin no Fafnir
K
Kaitou Joker Second Season
Kaitou Joker 3rd
Kaitou Joker 4th
Kamisama Hajimemashita 2
Kangoku Gakuen Prison School
Karakai Jouzu no Takagi-san
Kekkai Sensen
Kemono Friends
Kenja no Mago
Keppeki Danshi! Aoyama-kun
Kiitarou Shounen no Youkai Enikki
Kimi no Na wa
Kishuku Gakkou no Juliet
Kiznaiver
Kobayashi-san Chi no Maid Dragon
Komori-san wa Kotowarenai!
Kono Bijutsu-bu niwa Mondai ga Aru!
Kono Subarashii Sekai ni Shukufuku o!
Kono Subarashii Sekai ni Shukufuku o! 2nd
Koufuku Graffiti
Koukaku no Pandora
Kuma Miko
Kuroko no Basuke 3
Kyokai no Rinne
Kyoukai no Rinne 2nd
Kyoukai no Rinne 3
L
Little Witch Academia
Long Riders!
Love Kome -We Love Rice-
Love Kome -We Love Rice- 2nd
Love Live! Sunshine!!
Love Live! Sunshine!! 2nd
Lupin III (2015)
M
Magical Girl Lyrical Nanoha Detonation
Mahoujin Guru Guru
Mahou Shoujo Lyrical Nanoha ViVid
Mahou Shoujo Nante Mouiidesukara.
Mahou Shoujo Nante Mouiidesukara. 2nd
Masamune-kun's Revenge
Masou Gakuen Hybrid Heart Magias Academy Ataraxia
Midara na Ao-chan wa Benkyou ga Dekinai
Miira no Kaikata
Mikagura Gakuen Kumikyoku
Minna Atsumare! Falcom Gakuen SC
Miritari!
Miss Monochome- The Animation-2
Miss Monochome- The Animation-3
Mitsuboshi Colors
Mob Psycho 100
Monster Musume no Iru Nichijou
Muhyo to Roji no Mahouritsu Soudan Jimusho
Musaigen no Phantom World
N
Nagato Yuki-chan no Shoushitsu
Nanbaka
Nanbaka 2nd
Nande Koko ni Sensei ga!
Netoge no Yome wa Onna no ko ja Nai to Omotta?
Netojuu no Susume
New Game!
New Game!! 2nd
Nijiiro Days
Ninja Slayer From Animation
Nisekoi:
Nobunaga no Shinobi
Nobunaga Sensei no Osanazuma
Non Non Biyori Repeat
Noragami Aragoto
Nora to Oujo to Noraneko Heart
Nurse Witch Komugi-chan R
Nyanko Days
O
Ojisan and Marshmallow
Okusama ga Seitokaichou!
Okusama ga Seitokaichou! +!
One Piece Film Gold
One Punch Man
One-Punch Man 2nd
Onigiri
Onsen Yousei Hakone-chan
Ooya-san wa Shishunki!
Ore ga Ojou-sama Gakkou ni "Shomin Sample" Toshite Gets-rareta Ken
Ore ga Suki nano wa Imouto dakedo Imouto ja nai
Ore Monogatari!!
Ore-tacha Youkai Ningen
Osake wa Fuufu ni Natte kara
Oshiete! Galko-chan
Osomatsu-san
Osomatsu-san 2nd
Oushitsu Kyoushi Heine
Owarimonogatari
Owarimonogatari 2nd
Ozmafia!!
P
Pan de Peace!
Peacemaker Kurogane: Omou-michi
Piace: Watashi no Italian
Plastic Memories
Pocket Monster: Minna no Monogatari
Pokémon XY & Z
Punch Line
Puri Puri Chii-chan!!
Q
R
Rakudai Kishi no Cavalry
Ramen Daisuki Koizumi-san
Re-Kan!
ReLIFE
Renai Boukun
Rewrite
Rewrite 2nd
Reikenzan: Eichi e no Shikaku
Reikenzan: Hoshikuzu-tachi no Utage
Robot Girls Z Plus
Ryuo no Oshigoto!
S
Saenai Heroine no Sodatekata
Saenai Heroine no Sodate-kata Flat
Sakamoto desu ga?
Saiki Kusuo no Psi Nan
Saiyuuki Reload Blast
Sakura Quest
Sangatsu no Lion
Sangatsu no Lion 2nd
Sansha Sanyou
Seishun Buta Yarou wa Bunny Girl-senpai no Yume wo Minai
Seiren
Sekkou Boys
Senryuu Shoujo
Servamp
Sewayaki Kitsune no Senko-san
Shakunetsu no Takkyuu Musume
Shimoneta to Iu Gainen ga Sonzai Shinai Taikutsu na Sekai
Shingeki! Kyojin Chuugakkou
Shokugeki no Souma: San no Sara
Shounen Maid
Show By Rock!!
Show By Rock!!#
Show By Rock!! Short!!
Slow Start
Sore ga Seiyuu!
Sousei no Onmyouji
Stella no Mahou
Strike Witches 501 Butai Hasshinshimasu!
Sunohara-Sou no Kanrinin-san
SuzakiNishi The Animation
T
Taboo Tattoo
Tai-Madou Gakuen 35 Shiken Shoutai
Takamiya Nasuno Desu!
Takunomi.
Tanaka-kun wa Itsumo Kedaruge
Tate no Yuusha no Nariagari
Teekyuu Fifth Season
Teekyuu Sixth Season
Teekyuu 7
Teekyuu 8
Teekyuu 9
Tenshi no 3 Piece!
Tesagure! Bukatsu-mono: Spin-off Puru Purun Sharumu to Asobou
The IDOLM@STER: Cinderella Girls
The Idolm@ster SideM Wake Atte Mini!
The Rolling Girls
Time Bokan 24
Time Bokan: Gyakushuu no San-Okunin
To Love-Ru –Trouble- Darkness 2nd
Tonari no Kyuuketsuki-san
Touken Ranbu: Hanamaru 2nd
Tsuredure Children
Tsugumomo
Tsukiuta. The Animation
Tsukumogami Kashimasu
U
Uchi no Maid ga Uzasugiru!
Uchouten Kazoku 2
Uchuu Patrol Luluco
Uchuu Senkan Tiramisu II
Udon no Kuni no Kiniro Kemari
Unhappy
Urahara
Urara Meirochou
Urawa no Usagi-chan
Ushio no Tora
Ushio & Tora 2nd
Uta no Prince-sama Maji LOVE Legend Star
Uta no Prince-sama Maji Love Revolutions
Utawarerumono: Itsuwari no Kamen
V
Vampire Holmes
W
Wakaba Girl
Waka Okami wa Shougakusei! Movie
Watashi ga Motete Dousunda
Working!!!
WWW.Working!!
X
Y
Yahari Ore no Seishun Love Come wa Machigatteiru. Zoku
Yamada-kun to 7-nin no Majo
Yama no Susume 3rd
Yatogame-chan Kansatsu Nikki
Yo-kai Watch! 3rd
Yoru no Yatterman
Youkoso Jitsuryoku Shijou Shugi no Kyoushitsu e
Yowamushi Pedal New Generation
Yowamushi Pedal Glory Line
Yuragi-sou no Yuuna-san
Yuri!!! on Ice
Yurucamp
Yuruyuri San Hai!
Z
Zoids Wild